We're announcing our newest web platform, doing away with cumbersome CMS software in exchange for bespoke websites that give businesses the tools they need to succeed without compromise.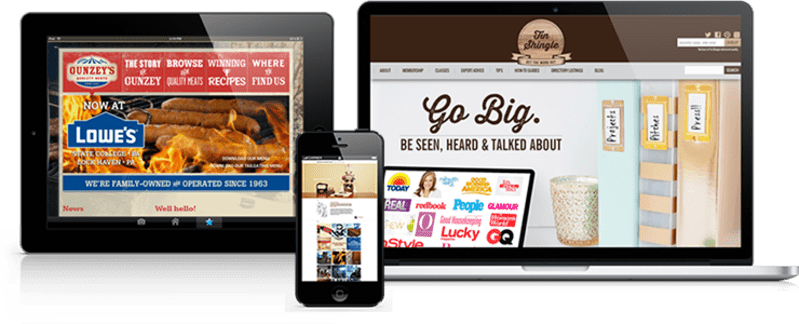 Cross-Platform Development
We believe in responsive design and feel that your company's website should work well for everyone. Desktop or mobile, we build websites that give your visitors a great experience no matter what device they're viewing them on. In fact, we are the first agency in our area to fully embrace responsive design, now the industry standard for cross-platform development.
The Web Designer's Secret Weapon
In addition to providing full service design and development of our own, we offer development-only options for studios and agencies who need their designs brought to life. We have been the technical talent behind famous agencies across the US for over a decade, and can help you to round out your creative process with a top-class development partner. We also offer our programming services to develop custom applications for companies without an in-house coding team.
Case Study: High Strung
The producers of the film High Strung came to us with a partially completed website that needed to be ready to launch in time for a nationwide theatrical release.
We put together the missing layout and content, then built custom features to integrate their promotional efforts. This included a theater locator with a purpose-built system for advance ticket sales.
Since the site's launch, we have worked with High Strung through their US and International theatrical releases as well their DVD release and rollout to Netflix and other streaming services.
Case Study: University of Utah
A laboratory at the USTAR Center for Genetic Discovery at the University of Utah came to us in need of a user interface to integrate with a genetics research API that they developed in-house. We worked with them to design an AngularJS-based web application capable of managing massive amounts of data and displaying it in a user-friendly, searchable display. Contact us to find out how we can help your business streamline your data.
What our customers say
Find out how we can help you!
Subscribe to our Newsletter
Sign up for our email newsletter to receive occasional updates on how to get the most out of your online presence as well as updates on the services that we offer.